I just discovered, with much sadness, that Majel Roddenberry, wife of Star Trek creator Gene Roddenberry, the actress who played the ever-memorable Lwaxana Troi, and the voice of all the various incarnations of Star Trek's "computers" has just passed away.
I just spent the past couple of minutes browsing her Wikipedia page, and found some amusing anecdotes: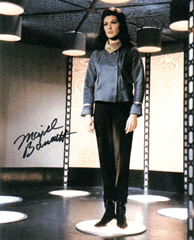 She first appeared in Star Trek's initial pilot, "The Cage", as the USS Enterprise's unnamed first officer. Barrett was romantically involved with Roddenberry, and the idea of having an otherwise unknown woman in a leading role because she was the producer's girlfriend is said to have infuriated NBC executives who insisted that Roddenberry give the role to a man. In Star Trek Memories, William Shatner noted that women viewers felt she was "pushy" and "annoying" and thought that "Number One shouldn't be trying so hard to fit in with the men." Barrett often joked that Roddenberry, given the choice between keeping Mr. Spock (whom the network also hated) or the woman character, "kept the Vulcan and married the woman, 'cause he didn't think Leonard [Nimoy] would have it the other way around."
I don't know what Gene Roddenberry was thinking, but Star Trek would always cast her in the role of women who fell in love with men who could/would never return their affection: first as a woman who fell in love with the non-emotional Spock and later as the outrageous mother of Deanna Troi who chased Captain Picard and Odo: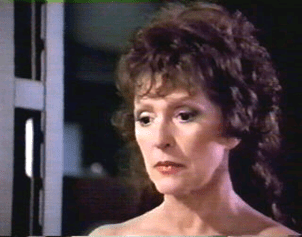 That Mrs. Roddenberry will reprise her role as "the computer" in the new Star Trek movie has just made it a lot more meaningful for me.
RIP