In recent years, it's been the opposite of controversial to say that the tech industry is in a bubble. The terrible recent stock market performance of once high-flying startups across virtually every industry (see table below) and the turmoil in the stock market stemming from low oil prices and concerns about the economies of countries like China and Brazil have raised fears that the bubble is beginning to pop.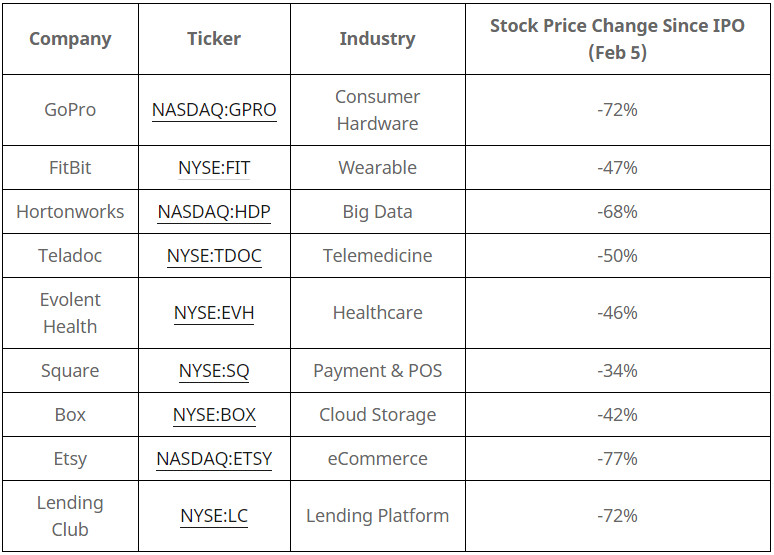 While history will judge when this bubble "officially" bursts, the purpose of this post is to try to make some predictions about what will happen during/after this "correction" and pull together some advice for people in / wanting to get into the tech industry. Starting with the immediate consequences, one can reasonably expect that:
Exit pipeline will dry up: When startup valuations are higher than what the company could reasonably get in the stock market, management teams (who need to keep their investors and employees happy) become less willing to go public. And, if public markets are less excited about startups, the price acquirers need to pay to convince a management team to sell goes down. The result is fewer exits and less cash back to investors and employees for the exits that do happen.
VCs become less willing to invest: VCs invest in startups on the promise that future IPOs and acquisitions will make them even more money. When the exit pipeline dries up, VCs get cold feet because the ability to get a nice exit seems to fade away. The result is that VCs become a lot more price-sensitive when it comes to investing in later stage companies (where the dried up exit pipeline hurts the most).
Later stage companies start cutting costs: Companies in an environment where they can't sell themselves or easily raise money have no choice but to cut costs. Since the vast majority of later-stage startups run at a loss to increase growth, they will find themselves in the uncomfortable position of slowing down hiring and potentially laying employees off, cutting back on perks, and focusing a lot more on getting their financials in order.
The result of all of this will be interesting for folks used to a tech industry (and a Bay Area) flush with cash and boundlessly optimistic:
Job hopping should slow: "Easy money" to help companies figure out what works or to get an "acquihire" as a soft landing will be harder to get in a challenged financing and exit environment. The result is that the rapid job hopping endemic in the tech industry should slow as potential founders find it harder to raise money for their ideas and as it becomes harder for new startups to get the capital they need to pay top dollar.
Strong companies are here to stay: While there is broad agreement that there are too many startups with higher valuations than reasonable, what's also become clear is there are a number of mature tech companies that are doing exceptionally well (i.e. Facebook, Amazon, Netflix, and Google) and a number of "hotshots" which have demonstrated enough growth and strong enough unit economics and market position to survive a challenged environment (i.e. Uber, Airbnb). This will let them continue to hire and invest in ways that weaker peers will be unable to match.
Tech "luxury money" will slow but not disappear: Anyone who lives in the Bay Area has a story of the ridiculousness of "tech money" (sky-high rents, gourmet toast,"its like Uber but for X", etc). This has been fueled by cash from the startup world as well as free flowing VC money subsidizing many of these new services . However, in a world where companies need to cut costs, where exits are harder to come by, and where VCs are less willing to subsidize random on-demand services, a lot of this will diminish. That some of these services are fundamentally better than what came before (i.e. Uber) and that stronger companies will continue to pay top dollar for top talent will prevent all of this from collapsing (and lets not forget San Francisco's irrational housing supply policies). As a result, people expecting a reversal of gentrification and the excesses of tech wealth will likely be disappointed, but its reasonable to expect a dramatic rationalization of the price and quantity of many "luxuries" that Bay Area inhabitants have become accustomed to soon.
So, what to do if you're in / trying to get in to / wanting to invest in the tech industry?
Understand the business before you get in: Its a shame that market sentiment drives fundraising and exits, because good financial performance is generally a pretty good indicator of the long-term prospects of a business. In an environment where its harder to exit and raise cash, its absolutely critical to make sure there is a solid business footing so the company can keep going or raise money / exit on good terms.
Be concerned about companies which have a lot of startup exposure: Even if a company has solid financial performance, if much of that comes from selling to startups (especially services around accounting, recruiting, or sales), then they're dependent on VCs opening up their own wallets to make money.
Have a much higher bar for large, later-stage companies: The companies that will feel the most "pain" the earliest will be those with with high valuations and high costs. Raising money at unicorn valuations can make a sexy press release but it doesn't amount to anything if you can't exit or raise money at an even higher valuation.
Rationalize exposure to "luxury": Don't expect that "Uber but for X" service that you love to stick around (at least not at current prices)…
Early stage companies can still be attractive: Companies that are several years from an exit & raising large amounts of cash will be insulated in the near-term from the pain in the later stage, especially if they are committed to staying frugal and building a disruptive business. Since they are already relatively low in valuation and since investors know they are discounting off a valuation in the future (potentially after any current market softness), the downward pressures on valuation are potentially lighter as well.
Thought this was interesting or helpful? Check out some of my other pieces on investing / finance.