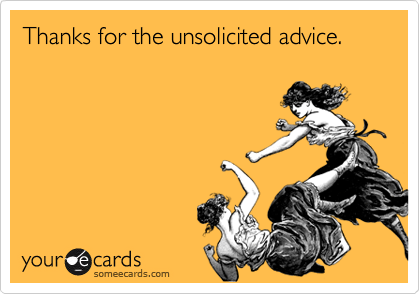 I thought I'd re-post a response I wrote a while ago to a question on Quora as someone recently asked me the question: "What advice do you wish you could give but usually don't to a startup pitching you?"
Person X on your team reflects poorly on your company — This is tough advice to give as its virtually impossible during the course of a pitch to build enough rapport and get a deep enough understanding of the inter-personal dynamics of the team to give that advice without it unnecessarily hurting feelings or sounding incredibly arrogant / meddlesome.
Your slides look awful — This is difficult to say in a pitch because it just sounds petty for an investor to complain about the packaging rather than the substance.
Be careful when using my portfolio companies as examples — While its good to build rapport / common ground with your VC audience, using their portfolio companies as examples has an unnecessarily high chance of backfiring. It is highly unlikely that you will know more than an inside investor who is attending board meetings and in direct contact with management, so any errors you make (i.e., assuming a company is doing well when it isn't or assuming a company is doing poorly when it is doing well / is about to turn the corner) are readily caught and immediately make you seem foolish.
You should pitch someone who's more passionate about what you're doing — Because VCs have to risk their reputation within their firms / to the outside world for the deals they sign up to do, they have to be very selective about which companies they choose to get involved with. As a result, even if there's nothing wrong with a business model / idea, some VCs will choose not to invest due simply to lack of passion. As the entrepreneur is probably deeply passionate about and personally invested in the market / problem, giving this advice can feel tantamount to insulting the entrepreneur's child or spouse.
Hopefully this gives some of the hard-working entrepreneurs out there some context on why a pitch didn't go as well as they had hoped and maybe some pointers on who and how to approach an investor for their next pitch.
Thought this was interesting? Check out some of my other pieces on how VC works / thinks