In my Introduction to Tech Strategy post, I mentioned that one of the most important aspects of the technology industry is the importance of ecosystem linkages. There are several ways to think about ecosystem linkages. The main linkages I mentioned in my previous post was influence over technology standards. But, there is another very important ecosystem effect for technology companies to think about: encouraging demand.
For Microsoft to be successful, for instance, they must make sure that consumers and businesses are buying new and more powerful computers. For Google to be successful, they must make sure that people are actively using the internet to find information. For Cisco to be successful, they must make sure that people are actively downloading and sharing information over networks.
Is it any wonder, then, that Microsoft develops business software (e.g. Microsoft Office) and games? Or that Google has pushed hard to encourage more widespread internet use by developing an easy-to-use web browser and two internet-centric operating systems (Android and ChromeOS)? Or that Cisco entered the set top box business (to encourage more network traffic) by acquiring Scientific Atlanta and is pushing for companies to adopt web conferencing systems (which consume a lot of networking capacity) like WebEx?
These examples hopefully illustrate that for leading tech companies, it is not sufficient just to develop a good product. It is also important that you move to make sure that customers will continue to demand your product, and a lot more of it.
This is something that Dogbert understands intuitively as this comic strip points out: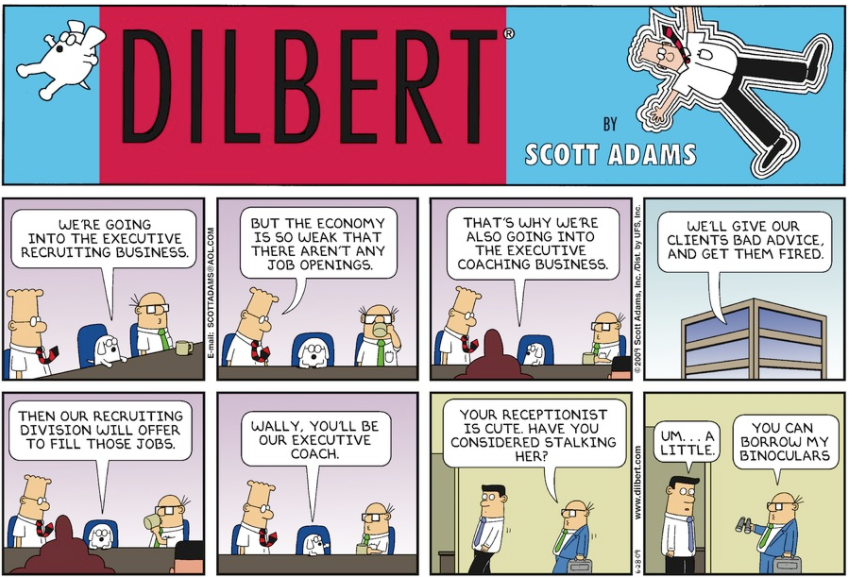 To be a leading executive recruiter, its not sufficient just to find great executives – you have to make sure there is demand for new executives. No wonder Dogbert is such a successful CEO. He grasps business strategy like no other.
Thought this was interesting? Check out some of my other pieces on Tech industry